Detroit Symphony Orchestra District

The cultural significance of the Detroit Symphony Orchestra, combined with its Midtown location, offers a truly exciting opportunity for meaningful development within the city. VolumeOne adopted the aspirations as laid out in the vision developed by Sasaki to seek a vibrant and interactive mixed-use district located near the southern edge of Midtown with the DSO serving as the heartbeat. Primary aspects of the development are to create an integrated and pedestrian activated, live and work community which will act as cultural incubator and positions the DSO as a magnet in the city.

The district will take the form of a campus, with five individual buildings grouped around an attractive courtyard, housing cultural venues, spaces for entrepreneurial development, and 230 residences. The primary design strategy for the campus is to create a permeable courtyard system with urban street frontages towards Cass in the west, Parsons in the north and Davenport in the south.This system of courtyards and plazas offer human-scale urban spaces, each with its own unique character designed for the needs of a variety of users and residents. One important aspect of the
urban design and subsequent layout of the buildings is to create spaces that minimize the visual impact of the existing and proposed additional parking structures which dampen street life and discourage the use of public spaces. Effectively integrating the parking enhances the life and has a positive effect on the use of public spaces.

The Art Plaza on Parsons creates an improved pedestrian connection between Cass and Woodward, while at the same time improving the pedestrian experience by showcasing the art gallery and studios in conjunction with the existing Casgrain Hall Senior Residence building, the composition of buildings creates a unique and dense urban atmosphere. The Building on the corner of Cass and Davenport offers 66 units with a variety of layouts including studios, one and two-bedroom units, and maisonettes provides an attractive view of Detroit's skyline. The southern courtyard opens to Davenport and fosters a denser urban feel, perfect for the live/work tenants on the lower level of the building flanking the new parking structure. The new parking for the residents and the 55 Metro matrix spaces are added to the south of the existing DSO parking Deck, bordering on Davenport Street.

The new campus is envisioned to contribute to the historic heritage of Detroit and Midtown in particular. While offering a clear contemporary visual appearance, the facades relate to the historic context in materiality and proportions.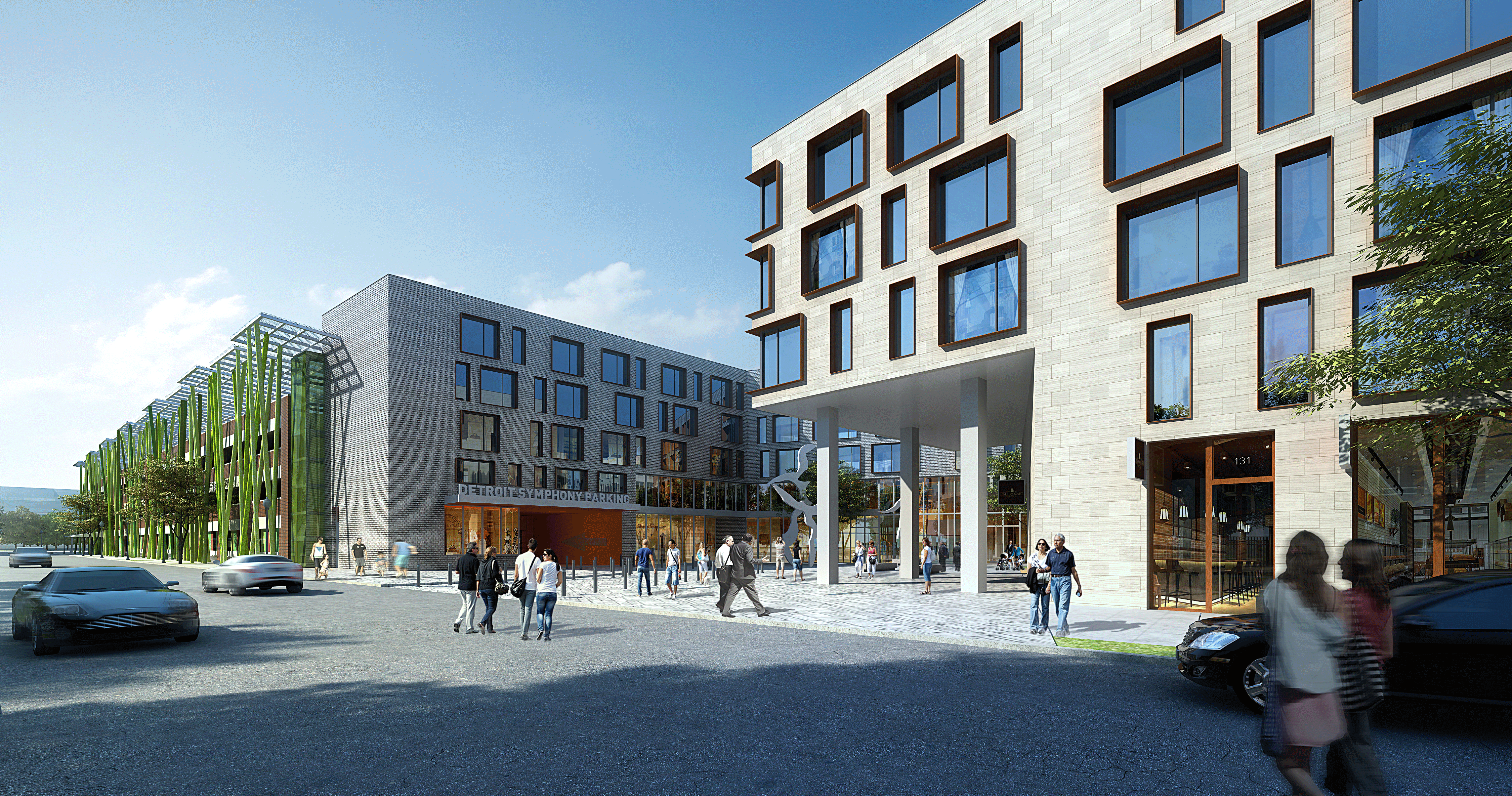 Building Type:
Mixed Use
,
Residential
, and
Commercial

Location:
Detroit
, Michigan, USA

Client:
The Platform Detroit
Service:
Urban Design, Architectural Design

Floor Area:
299,809 sqft / 23,853 sqm (230 Units)

Competition:
November 2015, 1st Prize


Team:
Lars Gräbner, Christina Hansen
, Matthew Biglin, Xi Liao and Shaoxuan Dong