4 Community Buildings in Bengbu


The four Community Buildings are located in the center of a housing development, divided into four areas by the East-West running Xinghe Road. Apart from offering basic services to the community with meeting halls, safety and administration, the buildings will house a local police station, elderly apartments, and a local clinic. All four buildings form an urban composition around an intersection of two roads, and ought to create a harmonic relation to the context they are serving, while supporting a human scale urban center for the residences. The underlying approach for the design is based on the concept that all four buildings form one urban entity with distinct individual characters, based on their function and public importance. The diverse access possibilities, the urban spatial characteristics and the refined design of the plaza with its consistent materiality and proportions, create the central motif of the overall design.

The plaza is created primarily by the relationship of the four buildings, their massing, form, proportions and heights. Another factor is the materiality, chosen commonly for all buildings. All four buildings use the same basic material palette, The material choices are intentionally simple and of tactile qualities, familiar in the region is of contemporary interpretation to create a relationship between the region, local history and our modern lifestyle.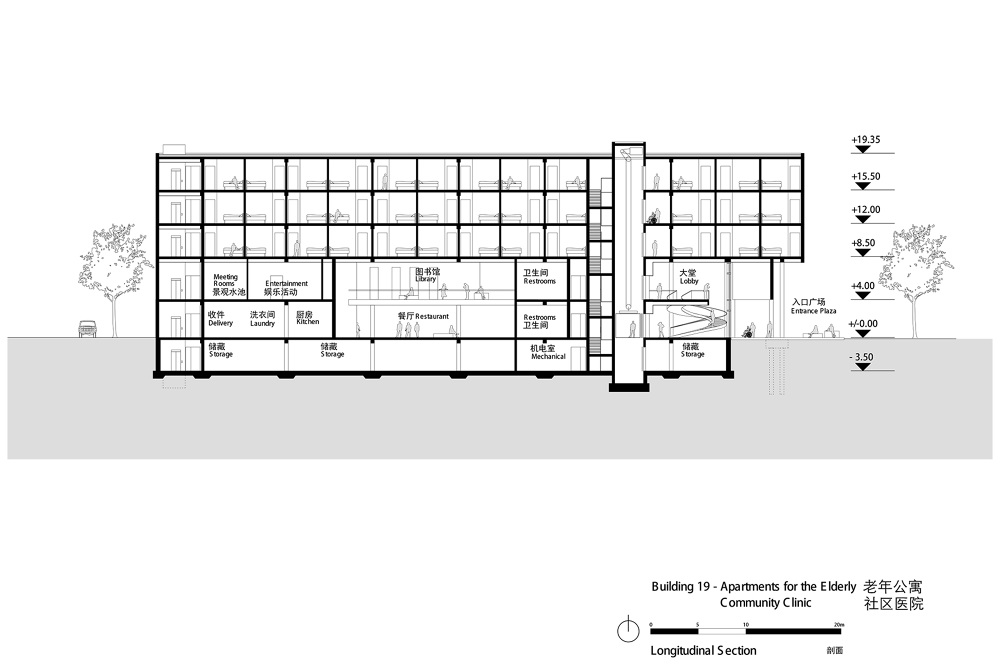 Building Type:
Community Service, Police Station, Senior Apartments & Clinic

Location:
Bengbu
, Anhui Province, China

Client:
Bengbu Capital Investment Co. LTD
Service:
Urban Design, Architectural Design

Size:
10,000 sqm / 107,640 sqft

Proposal:
February 2013


Team:
Lars Gräbner, Christina Hansen
, Kelly Raczkowski, James Bevilacqua, Yukun Xu, Shaoxuan Dong

Local Design Institute:
HFUTADI / Studio 2, Xiaojie Qi, Yadong Zhou, Yi Yang